Sunset United Methodist Church
Monday, July 06, 2020
Love. Live. Lead the Gospel!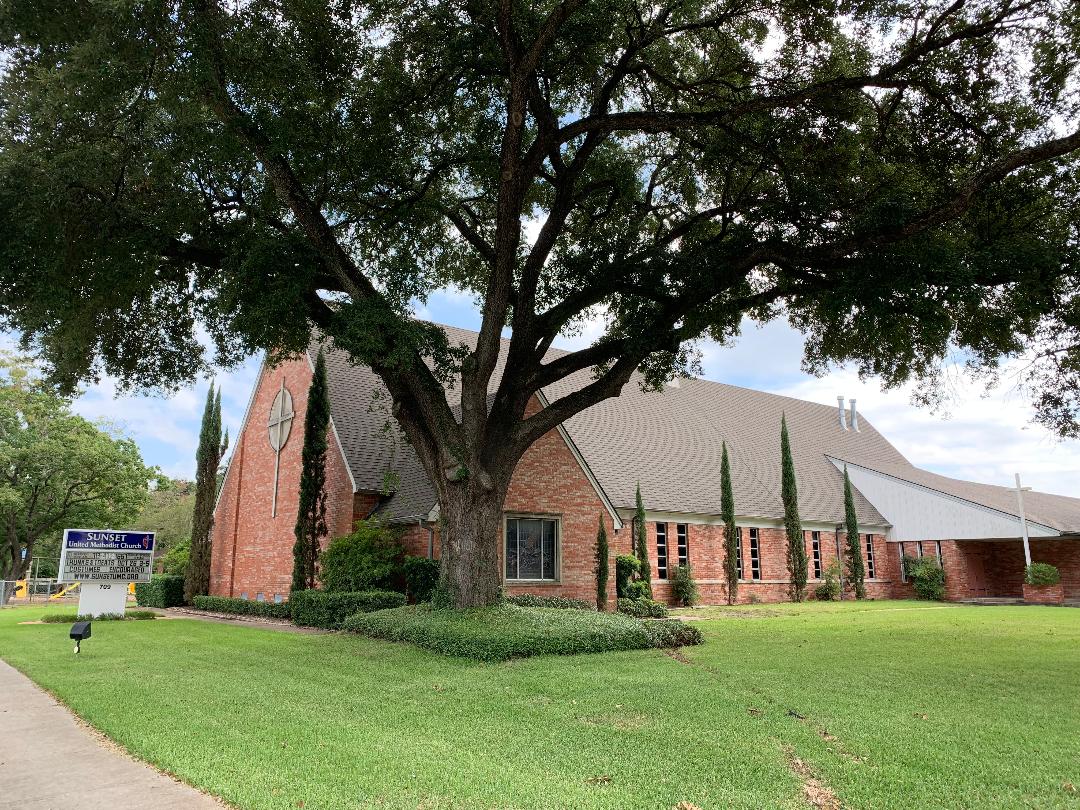 First Time Visitor?

WELCOME TO SUNSET UNITED METHODIST CHURCH

Welcome, and thanks for your interest in Sunset United Methodist Church. We believe we are called to be a "Church Unique" in our neighborhood and global community.

That belief shapes everything we do, from our worship on Sunday mornings to our after-school program to our food pantry and our youth ministries. We find that when we express God's love in the community around us, we experience God's love in a deeper way.

Click below and open the album "Our Church Home" for pictures.

---

WHAT TO EXPECT WHEN YOU ARRIVE

Sunday Services: Our Sunday morning worship service begins at 10:30 am and lasts about one hour. It is a unique combination of traditional elements and informal atmosphere.

Arriving: We have ample parking near our drop-off area. Greeters are waiting for you and will show you to a Sunday School Class or to the sanctuary in time for worship.

Come as you Are: Dress however you like. At Sunset United Methodist Church you will see some of us in blue jeans and others in three-piece suits.

Bring the Kids: We provide a nursery for children under the age of five. A children's sermon is incorporated into our worship service and is followed by Children's Church for ages 3 years through 5th grade.

---

WHAT WE OFFER

Sunset United Methodist Church offers opportunities for spiritual growth at any age.

With eight different adult Sunday School classes, we are confident we will meet your learning style and fellowship needs. We also provide Christian Education for youth and for children 2 years of age and older.

Our music program is among the finest in our area. On Monday afternoons we have musical opportunities for children of all ages from toddlers through junior high. We have a youth handbell choir and two adult handbell choirs. Our Chancel Choir rehearses on Wednesday evenings.

Our United Methodist Men's group meets on the second Saturday morning of every month typically at 8am, and our United Methodist Women meet regularly in small groups for Bible Study, handbells, and book reviews in addition to quarterly meetings as a total group.

Our youth meet on Sunday evenings and are very active in church camps and conference events. We are proud and supportive of their monthly mission projects as well as their annual mission trip.

---

HOW WE SHARE OUR GIFTS

Here is a small sampling of the ways we are involved in our community and beyond:

· Youth and Adult Mission trips

· Salvation Army Christmas Stockings

· Ministry with local elementary schools

· Ministry with local nursing homes

---

709 Allendale

Pasadena, Texas 77502

(713) 473-7657

Live, Love, Lead the Gospel of Jesus Christ!